Eco-Friendly Toilet Paper Wallet Friendly Too?
School's out and I'm asking you to watch me do some math.
Brave.
But economics is what this post comes down to.  Welcome to TP math.
Every day my family, if they want to keep processing oxygen, requires toilet paper.  And our toilet paper currently comes in plastic.
Here are some things I'm willing to consider:
Getting rid of bleach.  My paper isn't destined to end up white so doesn't need to start out that way.  Sanitized is all we're looking for.
Paper wrapping instead of plastic.
Post-consumer paper instead of virgin.  Check this out:
"If every US household replaced even one roll of virgin fiber toilet paper with one made from 100% recycled fibers, 423,900 trees would be saved!" ¹  Holy crap!  I can't vouch for that stat but even if it's off by 25% I still say it's something to consider.
Some things I'm not willing to consider:
A bidet.  Although I would consider an outside, composting crapper.  But I don't think the City of Albuquerque would.
Family cloths.  Um, I already clean enough poop off things with a baby in the house so, "No thank you."
Selective usage.  My oldest already has a dubious habit of not using TP when she pees.  It's not a environmental effort – I think she just want to get back to her toys faster.
So how do you even do TP math?  There's single-ply, multi-ply, quilted, bleached, unbleached, 100% recycled, 100% virgin trees, baby.  Are the sheets even the same size?  Should I go by cost per roll or cost per sheet or, as the hubs says, "Why don't we go by cost per crap?"  Mmmm, 165 pounds of eloquence and allure, all mine.
Actually, cost per use wouldn't have been a bad idea.  Note the date we get the roll, the date we uncovered the cardboard tube and find how much the roll cost us a day.  But….I didn't allow enough time for that.  Sorry babe.
So cost per square foot is what we'll do since that's what Consumer Reports does.
1.  Charmin Ultra-Soft, $9.29 for 6 rolls of 2-ply, 400 sheets.  This is the stuff you WANT to use on your tush.  About three cents a square foot.
2.  Seventh Generation and green² TP on sale for $1.29 for a 1-ply, 1000 sheet-roll.  The stuff you SHOULD use on your tush.  A penny a square foot.
3.  Charmin Basic, $8.29 for 12 rolls of single-ply, 264 sheets.  NOT the stuff you should use or WANT to use.  Two cents a square foot.
So, not much difference.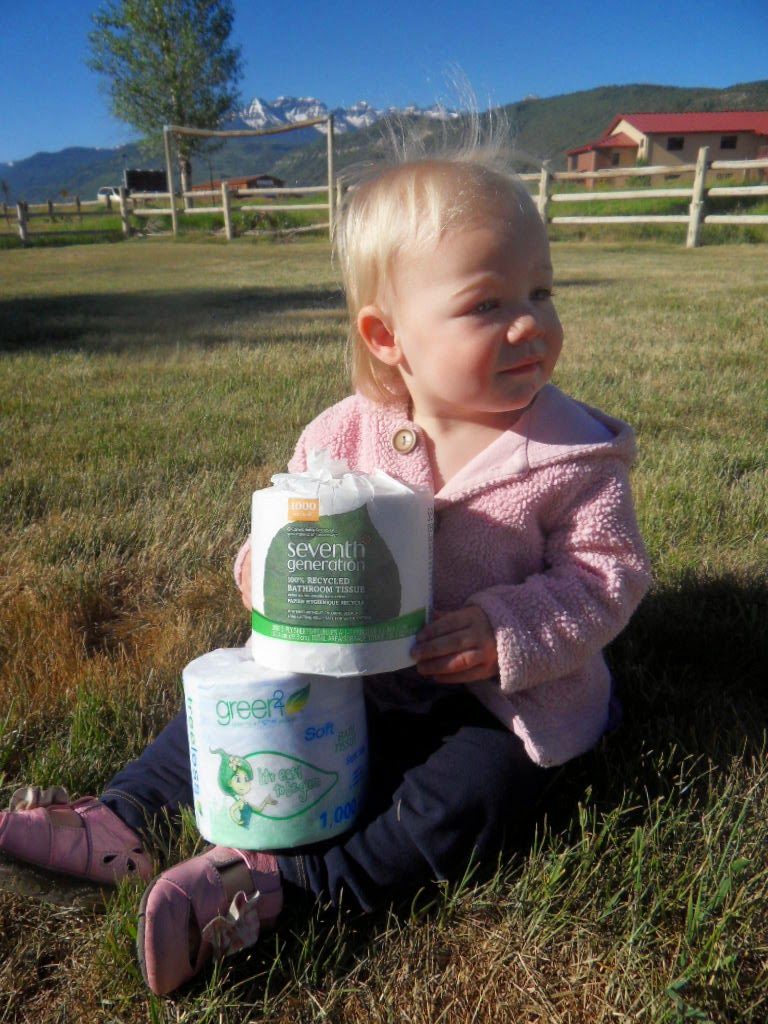 Or I could buy the hippie stuff on Amazon in bulk and save a fraction more.  There's also the automatic delivery option which saves more but that sounds like a contract and we don't do those in our family.  And it doesn't seem very Zero Waste to order a truck to drive to my house to drop off unmentionables (or a drone using jet fuel?).  And then I remembered I can recycle the plastic wrapping here in Albuquerque and now, frankly, I'm starting to kind of lose it with this project.
Result:  since the cost difference is negligible, I'll make an effort to find the no-chlorine, 100% recycled stuff in paper but not sweat it when only the plastic stuff is available.²
Now I think I'm going to stop thinking about toilet paper and go make some World Cup predictions.
¹ http://www.nrdc.org/land/forests/gtissue.asp

² I wouldn't waste your time looking for the labels PCS (Processed Chlorine Free) or TCF (Totally Chlorine Free).  They are hard to find or nonexistent.  Either use this guide or read the front label.  They are more than happy to tell you how they bleached the paper and what percentage of recycled material they used.  If they don't, then you don't want to use it.