Clean Plate Club for Working Dishwashers
Or, "The ultimate, housewife, lower body workout."  Paired with making sauerkraut, you'll never need another gym membership.  I dare you to do more squats than it takes to fix a clogged dishwasher.
I've been on a Ms. Fix-It kick lately, trying to repair household items before replacing them.  Like my blender.  Or my kids' leaky water bottles.  Or my vacuum cleaner.
Last week, I woke up to a dishwasher full of water.
Yay.  Another project.
First I did what every modern housewife does in the event of an emergency.  I consulted Google.
Honestly, I'm seriously considering donating all my parenting handbooks.  Kid gets a symptom and I reach for the iPad, not the bookshelf.  Sigh.  What's this world coming to?
Anyway, Google told me, via YouTube, to first get rid of all the nasty water.
I initially grabbed one of the kids' cereal bowls (because it was shallow and because it was handy), stopping midway to make lunch for the youngest with leftover "Sunbutter" I had to buy for the oldest whose school is now suddenly nut-free and of course the oldest thinks "it tastes funny" so I'm trying it out on the youngest before she knows better.  Rant over.  Then I moved on to the turkey baster.  If you ever find yourself using a turkey baster before the leaves fall, you now have my condolences.  It took me nine trips to the backyard to empty that thing.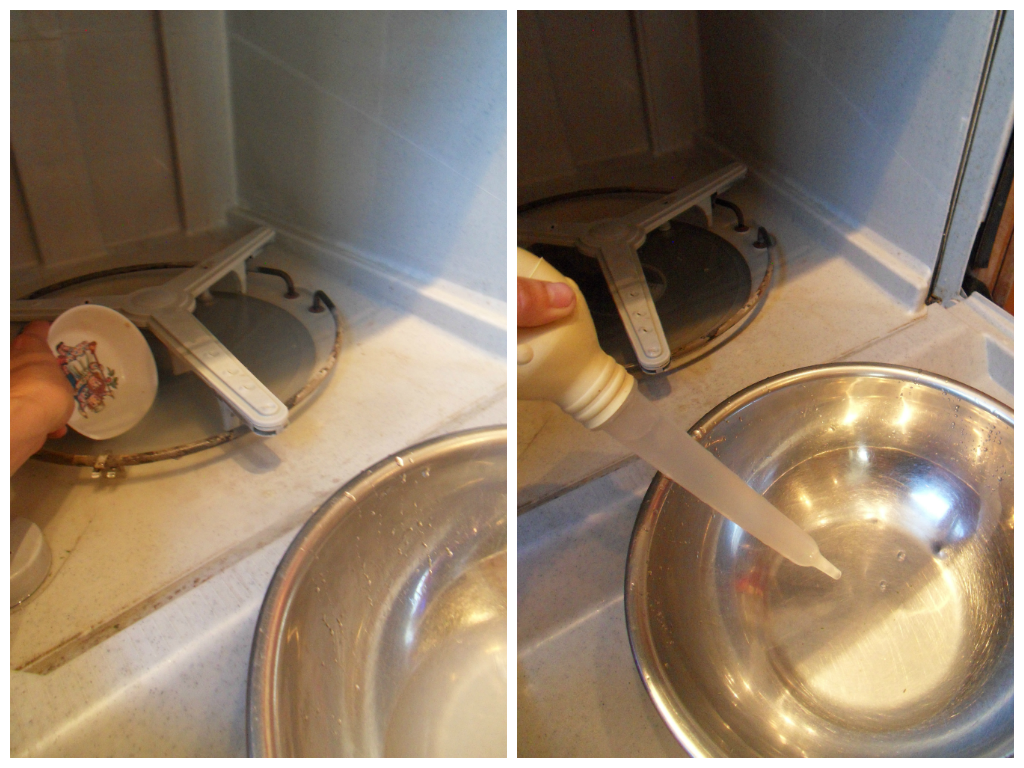 The YouTube video said to now go to town with a Phillips but I thought better of it and did something I should have done in the beginning – checked my owner's manual.  We went paperless in our house last year so I had to find online.  Google:  Frigidaire Professional Series manual.  It totally worked.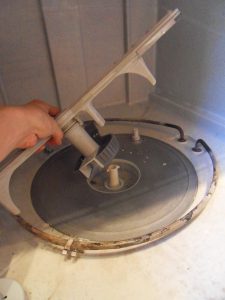 I started removing parts:  First the spray arm, then a food filter, then another screen designed to keep food out, each level revealing more water to clear out.  My wisteria has never been happier.
Finally at the bottom, using a headlamp and a cosmetic mirror, my backside greeting any who happened to stop by the kitchen (no pics, loves), I cleared out a mass of leeks and egg shells and starting putting my dishwasher back together.
Happy with myself, I ran a test load, excited to finally have a good answer to "What did you do all day?"  I was smug and content all afternoon, thinking about how to brag to the hubs that I fixed the machine myself, keeping the repairman a bay.
Except…of course…that I hadn't fixed it.  I had just wasted an entire load on an empty dishwasher only to find a dozen salad bowls-worth of grey water resting on the bottom again.
Sigh.
Back to my "place" I suppose, kick off those shoes, take away my driving license, and my degrees while you're at it.
The hubs came home and opened this thing, the thing on the sink that makes all the gagging noises when the dishwasher is draining.  It's called an air gap apparently and EVEN THOUGH your dishwasher propaganda says "No need to rinse your dishes!", you do.  The hubs removed the cover and found an adult serving of rice and some more egg shells.  Just because your dishwasher pump is strong enough to suck all the food out of your machine, doesn't mean you should give it a chance.  It's still got a sharp, left turn to make once it hits the plumbing.
So my Zero Waste lesson:  maintain your dishwasher either by making all your family members part of the clean plate club or compost enough for you and your next door neighbors by scraping your dishes before loading.