Got a Gas Fireplace? Use the Blower!
The Danes have this awesome word.  Hygge.  It's pronounced "hugh" (as in Hugh Grant) – "guh".  And hygge, is something or some situation that makes you happy or comfortable, hot cocoa after a cold hike, thick socks in the evening before bed and ANY kind of snuggly blanket.  That warm belly after a few sips of wine.  An afternoon with family.  Or friends.  Or even Hugh Grant if he does it for you.
But in our house, come October, our hygge has an on/off switch.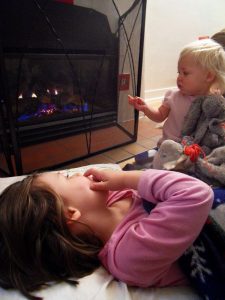 When we bought our house here in Albuquerque, I remember being disappointed seeing a gas fireplace in the family room.  A Montana girl, I though heat came from the firewood I had corded myself (albeit, under duress and with my father measuring my work before I was able to go back out and play).  A gas fireplace wouldn't afford me the smell, the crackle, or the dancing flame we call God's TV.  There's no….work involved!  You just flip a switch and you have heat.  Wait….what was that?  All I have to do is flip a switch to have heat in my family room?!  Sold!
So I'm a convert.  Where I'm going with this is…if you have a gas fireplace, make sure you use the blower.  If you are a home improvement-TV junkie you've probably seen designers uncover the big reveal and the new family room or master bedroom has a pretty gas fireplace with flames flickering over colored glass beads.  What they often fail to mention is that $6000 accent piece (because it's never the $700 option from Lowe's) might come with a device designed to turn your heater into a much more efficient machine.
Gas fireplaces are designed to be wasteful.
They take the heat created by that gas flame and shoot it out of your house through a vent or flue somewhere.  Out…of…your…house.  A
fireplace blower
 however, grabs that precious
hygge
fuel and sends it back out into the family room.
So go check your fireplace right now.  You're looking for a rheostat knob that doesn't control the gas flame or the pilot.  Or maybe it's that switch on the wall you always wondered about.  That actually happened at my mother's house.
You can also get a fireplace blower kit installed after market.  The blower might cost you $100-150 bucks plus the install guy if you think a screwdriver is that thing you use to pry the mouse out of the mousetrap.
Since it's autumn here in the Land of Enchantment, I'll finish with what I think represents New Mexico hygge.