Smaller Desserts mean Less Waste
This post really belongs in a month devoted to food waste but I couldn't help posting it now since it's my daughter's birthday.  
This Sunday we celebrated the oldest's birthday and since I usually wait until the last minute to do things and because all the cupcake places were closed on Sunday, I was left with making a cake for my soon-to-be five-year-old.  We like to keep our celebrations small and I knew I didn't want 36 cupcakes or a triple-layer yellow cake – the amount most cake recipes yield.
There are some super cute "dessert for two" recipes out there but I didn't want to buy a 6-inch cake pan (though if I find one in a thrift store, I'll step over you to get it, grandma).  I certainly didn't want six mini-bundt pans or a tray of a dozen mini-cupcakes.
I didn't want mini.  I wanted less.
After looking around the internets I finally just decided to halve my birthday cake recipe.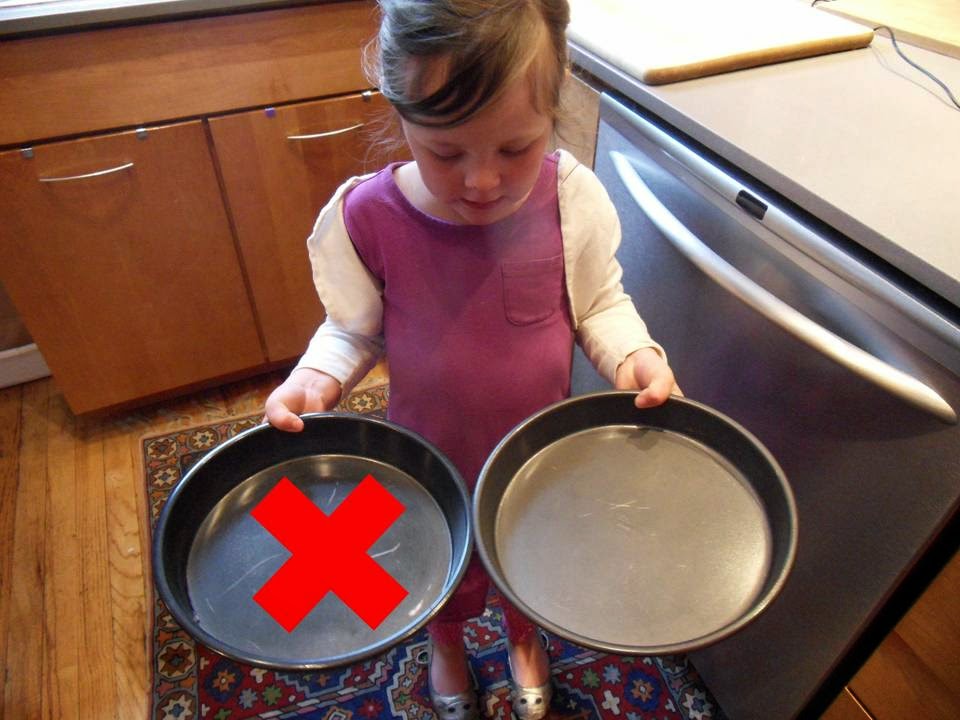 But sometimes a one-layer cake says "Mommy wanted something sweet to eat and made this cake 'for the family' " and not "Happy Birthday my sweet little girl".  So…..we cut it in half.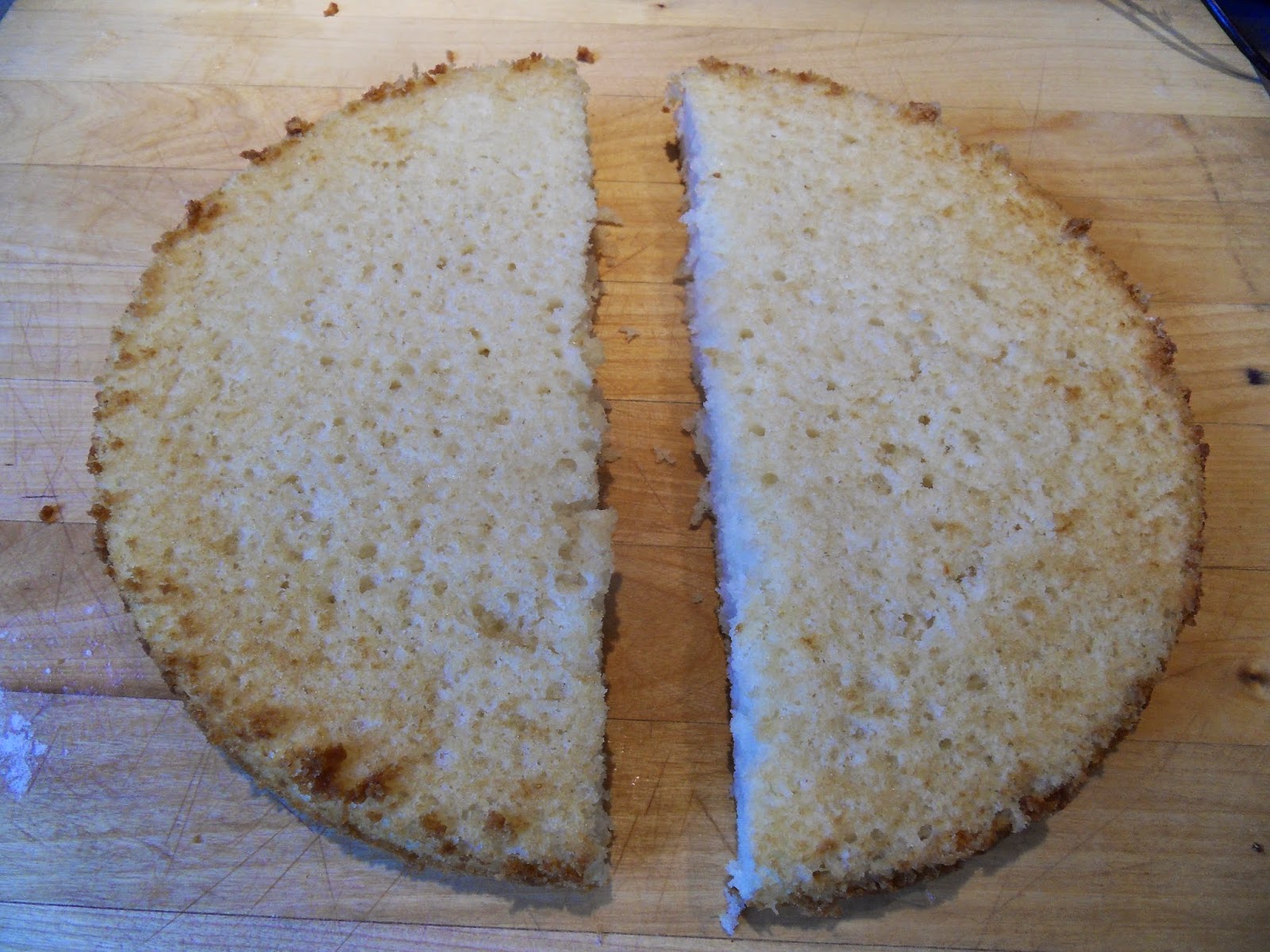 Frosted it.
And made a layer cake out of it anyway.
And after the cake was cut and consumed, these were the only leftovers we had.

I can hear the arguments now. "But what's wrong with having leftover cake for days on end?" Ah…nothing really.  But it doesn't always get eaten, sometimes you feel guilty looking at that cake sitting in the microwave.  I'd prefer to have it wrapped up within 36 hours of the oven getting hot, you know?
A word about frosting – did you know you can freeze frosting?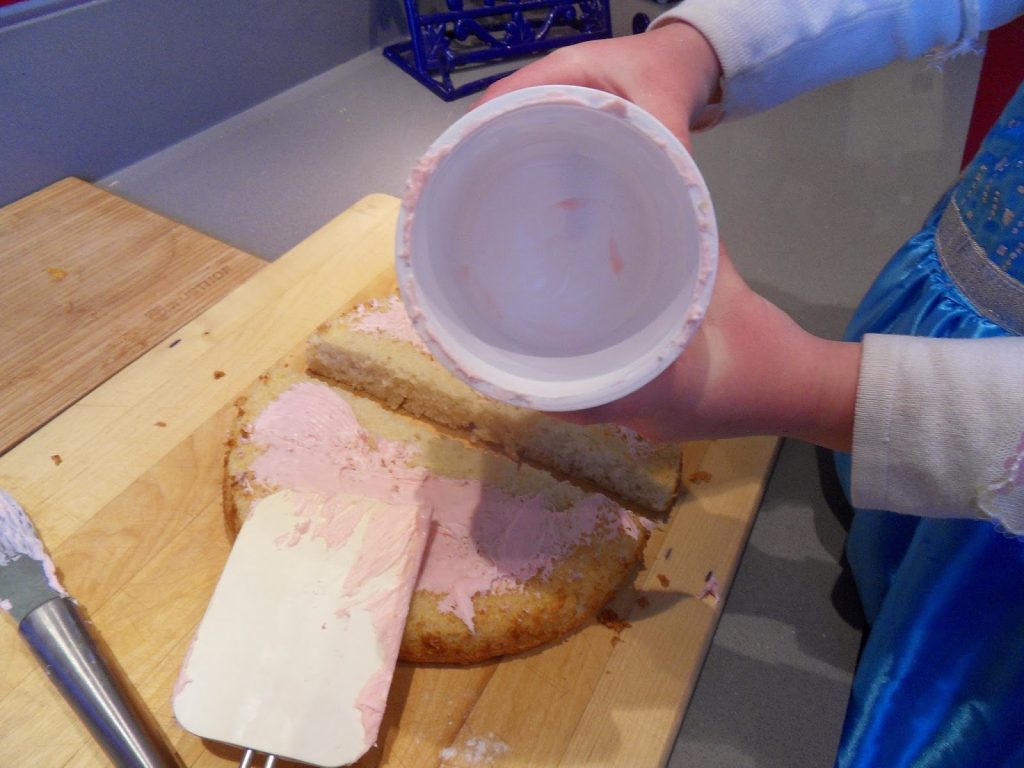 Zero Waste Mommy admission:  Sometimes I buy and use store-bought frosting.  After frosting some Halloween cookies, I decided to take a chance and freeze the leftovers.  (Because when was the last time you used all the frosting?)  Just popped it in the freezer in the original container.  Then when the next "orange" holiday came up, which happened to be Thanksgiving, I took it out, let it thaw and had some yummy Thanksgiving cupcakes.
So the frosting we used this weekend had been used earlier in the year:  once for my youngest's birthday and once for Valentine's Day cookies.
A good spatula taken to the remains makes washing easier and the container is recyclable.
And I'll close with the best small dessert recipe ever.  The original page is gone, so I've reprinted it here:
Exactly Two Chocolate Cupcakes
by Brett Bara
3 Tbsp flour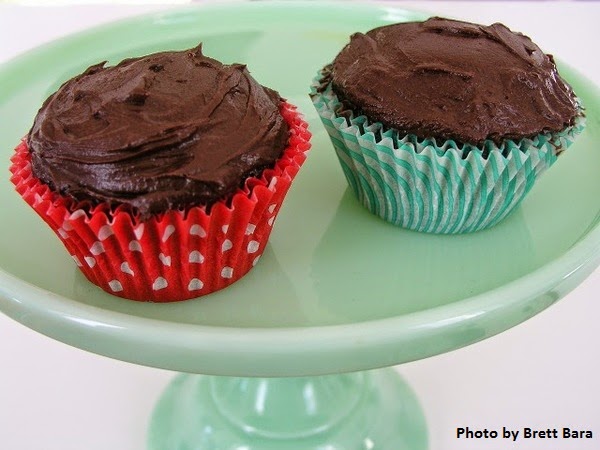 2 Tbsp sugar
1 1/2 tsp cocoa flour
1/8 tsp baking soda
1/16 tsp salt (we can call this a pinch)
2 Tbsp cold water (maybe a skoosh more)
1 Tbsp veggie oil
1/16 tsp vanilla (a few drops)
1 Tbsp chocolate chips (optional)
Preheat oven to 325.
Whisk dry ingredients in a small bowl.  Combine wet ingredients in a liquid measuring cup.  Add the dry to the wet and stir until combined, whisking well.  Divide batter into two cupcakes and sprinkle with chocolate chips.
Bake for 18 minutes.  Allow to cool before frosting.
Chocolate Frosting for Two Cupcakes
1 Tbsp butter
1 Tbsp + 2 tsp cocoa powder
3 Tbsp confectioners sugar
1 tsp milk, half and half or cream
dash of salt
Melt the butter in a small bowl.  Add everything else and whisk to combine.  Refrigerate for  10-15 minutes or until frosting is partially set.  Whisk again then allow to rest at room temperature.