2015 Zero Waste Resolutions Revisited
Setting goals is awesome.  Reaching them is even better!  But wanna know where you can bank some serious personal growth?  Figuring out why you failed at other goals.  So I humbly attempt that today.
So what's my score for my 2015 Zero Waste Resolutions?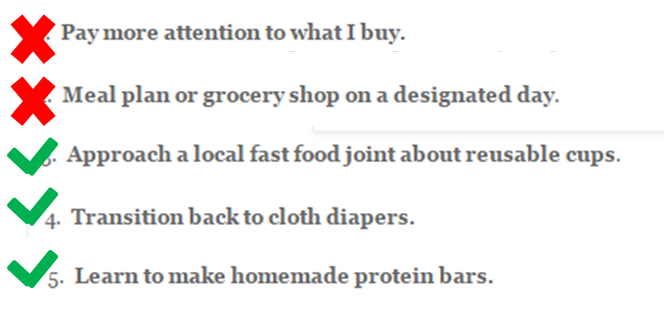 Oh!  60%!  Otherwise known as a D-.  That's nice.
I know why I succeeded at Learn to Make Protein Bars and Approach Fast Food about Cups.  These goals were simple, specific and success was easily measurable.  All I had to do was make effort in one direction without much forethought or logistics.  We Transitioned Out of Diapers too, but that was more passing a developmental stage I can't really take credit for.  That was all Baby #2.
So why didn't I Meal Plan or Grocery Shop on a Designated Day?  It's a pretty specific goal, seemingly simple too – pick a day, meal plan.  Success is measured as "Yes" or "No".  This guy has all the characteristics of an achievable goal.  So what happened?  As it turns out, a whole bunch of things common to failed goals:  procrastination, distraction, too many other goals (not listed here).  I think ultimately I didn't commit to the goal because I found it hard enough with two kids and a job to find a few minutes to myself and when I did, the last thing I wanted to do was think about meals.  At great expense, financially, physically and environmentally.  Boo to that!
And Pay Attention to what I Buy?  Well, I actually did pay attention to what I purchased.  The problem is I still purchased things that weren't Zero Waste and then just felt bad about it.  Eco guilt can be helpful if used in the immediate future for change.  Instead, for most of 2015, it became eco emotional baggage that dragged on to me like two kids on a last-minute, suppertime-grocery run.
So what does this mean for 2016?  How will I do with my new resolutions?  I'm going to ROCK them of course!  I'm already working to design a new webpage, have refused a few straws, and haven't purchased store-bought cookies all year (wait, no – there was the one time, Damn!).  I haven't yet perfected some veggie side dishes – but I'll take some recommendations!