Recycle Your Girl Scout Cookie Containers?
Update:

 Thin Mint wrappers are NOT accepted in plastic bag recycle bins.  Well a big, fat BOO! to that.

This was going to be "Open Letter to the Girl Scouts of the USA" but then I came across this (I may or may not have been looking for a Thin Mint recipe):

A little closer and we see that the Girl Scouts say that their cookie packaging is…RECYCLABLE!! (insert Zero Waste disclaimer:  "Remember, 'Recycle' is actually way down on the list of things you should strive for – being topped by 'Refuse', 'Reduce' and 'Reuse'.  Thanks.")

Cardboard boxes?  Sure.  But what about those containers that hold your Samoas for the three hours they are in your kitchen?  I called Little Brownie Bakers and they said the containers are made of polystyrene, or Recycle Plastic #6.
Now, I'm no stranger to the bottom of a case of Tagalongs, and last I checked (which was, oh, about three minutes ago) there wasn't a #6 printed on the plastic.  Turns out, Little Brownie Bakers and ABC Bakers (depending on which part of the United States you live in) made the call to not print the #6 on some variety of cookie trays due to limited space.
But if you look closely at a Samoa tray, very closely, as in, move all the cookies out of the way and into your stomach and peer down, you can see a #6.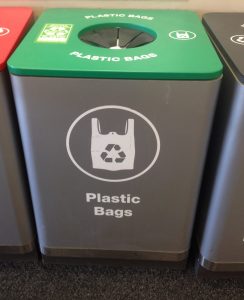 Clearly the cardboard box can be recycled but what about the plastic overwrap?
Well…maybe?
Do you have one of those plastic bag recycling bins just inside your Target or grocery store?  Trex, the company that makes composite decks from recycled wood and plastics, runs most of those bins in both the United States and Canada.  I've got an email in to them to confirm, but they do accept plastic overwrap – think, the annoying wrapping CDs used to come in.  Update:  And….no dice.  Gotta trash it.
It might appear that all three components (or two, if you are a Thin Minter) might actually be recyclable.  If your area accepts #6 plastic and has plastic bag bins around town, this is what it would look like:
1.  Cardboard box = curbside recycling bin.
2.  Plastic tray = curbside recycling bin (for those areas that accept plastic #6)
3.  Plastic overwrap = Target, some grocery stores, Kohl's, some thrift stores (here's link for stores by state)  It was totally worth a shot though.
I'll repost when Trex answers my, "So, do you accept Girl Scout sleeves?  Because I've got a few hundred to pass on your way…"*A crap-load of cookies were consumed in the writing of this post.




Clearly fiction.  Who takes three bites to eat a Tagalong?