Zero Waste Step #5: Stop Bagging Your Produce
We know about bringing your own grocery bags, but do you get a bit of a nag, somewhere in the back of your mind, when you put apples or broccoli in a plastic produce bag?  

You should!  Because for the most part, it's kind of unnecessary.*  

Here are pictures from an actual and typical trip to the grocery store.  Since I'm (attempting) zero waste and mommy I spend a lot of time both in the produce section and with, these two kids: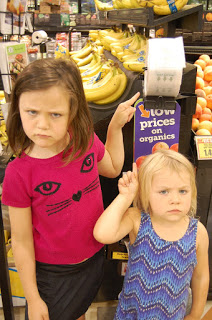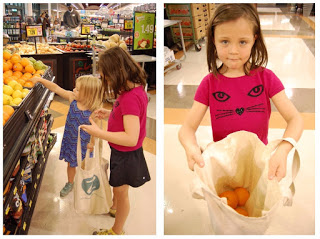 So you see, it's not totally necessary to use a produce bag.*  You can use a standard reusable grocery bag like we do.  Like the ones you found when you went through your house.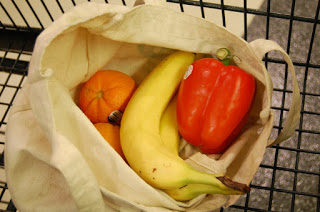 Pro-tip!  I keep my produce varieties to a minimum and let the cashier know what they are.

  For example, "Hey, all those apples are Fujis."   
(You can see the wave of relief cross his or her face when you do so.)
Otherwise, the cashier is going to want to check EACH piece of fruit for the sticker.  Which is funny, because they are less likely to feel the need to do so if they are bagged in plastic. 
So ultimately, what this habit really turns into is an exercise in undoing habits for both you and your local cashier.
———- ———- ———-
*Yes, yes – lettuce gets wet and beans and cherries need a bag.
Lettuce, broccoli, celery = I give it a good shake and put it in my grocery bag. If I'm on top of things, I have a bag that is not cloth but a sturdy plastic and can take the moisture. (But I'm not usually on top of things.)
Cherries, green beans, etc = I also toss these in a bag, but then they get all to themselves. When you get to the cashier, tell him the bag is tared at .35 or .4 or tell him the bag weighs 3 – 4 ounces, or a third of a pound – whatever registers first.
Here's the thing – if you NEED to use a produce bag, use one. Just don't use one out of habit every time you want produce. That's the endgame here.